hello
we are pan america
we are here to make you feel good


…

i wrote this song about my family. they're amazing.
…"my family"

our good friend scott gregory did this video with one flowing shot.

this video from our show at time warp, the guitar shop where we get our equipment fixed and see sweet bands play while we drool over the guitar walls… also shot by scott gregory.
we give you – "will we ever learn" …a little out of tune
contact pan america//
panam81@gmail.com
Listen now / free download:
Download the entire 'Will We Ever Learn?' EP for FREE @ pan america's bandcamp
also visit us at these fine sites
::: when you read this from top to bottom :::
::: you're going backwards in time :::
4.13.13
every time I look up I'm in a different state…
this tour with the mowgli's has been better than any other. we ride together. we walk together. we sing together. we're best friends through and through no matter what.
this bench I share with Katie has become a home. we are comfortable here. it's funny, when we're in a crowded club or a cold smelly green room we just crawl back into the van and suddenly we're in a comfort zone.
it seems like the mission we set out to accomplish is working. we are reaching more and more people now. people who tell us we've saved them from sadness or depression. people who tell us we are the deliverers of happiness, and people who tell us they've never danced so much in their lives.
for me it's a great feeling to be so in love and so involved in this blanketing of feel good across the world. now we get to travel around the globe spreading the message to anyone who will listen. I'm the luckiest guy I know.
the mowgli's have really pro'd up on this tour. we have mario running our sound. mario was brought into the family after we played a holiday party in Santa Monica at Dakota lounge. michael somehow talked him into traveling with us as our sound engineer. and he agreed for whatever reason.. ha. mario has a very unique vibe going. he rocks cowboy boots (which died on this tour…RIP) and jeans with a jean jacket lined with lambs wool (also might have died on this tour so now he just rocks jean jacket, no wool). good ol double denim. but he pulls it off very nicely. mario is just as excited and grateful as we are. he helps us so much. a great person for the team.
then we have the one and only forrest reda. tour manager, merch manager, guitar tech, driver and vibe coordinator. forrest is the kind of guy that I know I'll be friends with for life. I first met him at the ford amphitheater when he was working for dr. dog and I bought a baseball t from him. we struck up a conversation and I just remember really liking him. he was mellow but you could see that he had his shit together. and now he's working with us.
forrest met us in San Francisco during our tiny run of shows with Youngblood hawke. we basically all just hit it off right away. he brought so much knowledge to the operation. he's helped us tighten the screws and put them in place we're they were lacking. and as time goes we love him more and more.
turns out, he used to live in echo park. and I had a run in with some of his friends at the satellite when the mowgli's played with terraplane sun during their residency. I was approached by a guy and a girl asking if they could take my photo because they thought I looked just like another fried of theirs. fast forward to now, forrest tells me I don't even really look like the dude at all… ha.
still crazy.
now we ride in this 15 passenger van with 10 people all cuddled up together. traveling from city to town to city through desolate roads and busy highways. each stop is almost like a different world. different cultures, sometimes colliding and mostly just overall foreign. we get a lot of stares. especially when we're doing jumping jacks at the gas pump.
as we crawl our way across this beautiful country I am constantly reminded that I am a lucky lucky man and I embrace it. take it in. feel it. breathe it!!! it's all happening now.
we played another sold out show in Chicago last night. and several before that. and now onto more sold out shows. it's incredible. who are these people and how do they know us?!?!
either way, I'm glad they found us because we truly have a positive message to spread.
we're cruising through snow and sleet right now in Minnesota. heading to the triple rock in Minneapolis. there's a NOFX song about this place called seeing double at the triple rock. "when in Minnesota and you've got a drinking quota…"
more adventures, more stories, more love…
endless love and we lift you up.
-pan america
3/9/13
we made it thru the craziest couple weeks of our lives!!!!
holy…
we played two shows with youngblook hawke.  the first was thursday night at the troubadour, my favorite place to play in LA. then rickshaw stop in SF. both shows felt great. amazing crowds dancing and singing our lyrics. feels good!!!
we bailed right after our set last night in SF to catch a flight to austin TX for SXSW. it was like something out of a movie. i've never felt so much love walking thru a crowd before. good times San Francisco we LoVE you!
now we work for the next week here in austin. we roam the streets, play shows, see amazing bands, meet everyone, get free stuff and love every second of it. next thing you know it's over. and next thing you know its 2014…
if you're in austin for SXSW remember to share the road and the venues and the whole experience. and just be nice. we are all in this together friends!!
p&l
-pan america
3/2/13
the mowgli's have been working like crazy. cramming in the studio trying to finish a pile of songs to submit for the record. everyone is scrambling to get involved and be heard. at the same time we're all fitting into a groove like we all know what we're doing. like we've done this before or something…
i'm really excited to get these new songs out to the world. our message continues with positive affirmation and peace and love and change and surrender. i'm very proud of it all. i know we all are.
so we'll finish these songs in the next two days before we head out with youngblood hawke, then we're off to austin for more work and SXSW!!!!! #stoked
then!!!
six weeks with family of the year…
our lives are moving and spinning and we appreciate every second of the trip.
p&l world
-pan america
2/28/13
some mowgli's got a new house!!!
it's an all new vibe here. there's a comfortable feeling in the air and it smells great.
there's nothing wrong with a little bit of positive change in your life. only you can make yourself happy. make sure to love yourself and where you are. you have all the power to make it perfect.
-pan america
2/23/13
from one stage to another….
the mowgli's are on a magical mysterious journey. we just had the craziest week of our lives. probably. maybe. we did a mini tour to warm us up for the long run with family of the year. the first show was tuesday night in sacramento at ace of spades. an amazing band called cold eskimo opened the show. they had a heart warming vibe that grabbed my attention during their sound check. we must get these kids down to LA so they can explode into the hipster scene that's happening all over our city. i got the feeling they didn't even know how good they really are. so i told them.
our set at ace of spades goes down in my book as our best yet. several factors are involved. sound, crowd, vibe, health, etc… we played a long set and we all made it through and totally killed it. keeping busy has kept the mowgli's tight.
after about 2 hours of sleep we all booked it to the airport and flew to LA for
kimmel
. this whole thing was an amazing experience. michael and i had amps from
orange
and colin and i had guitars from
gibson
. i felt like a rich kid. playing kimmel was our highlight of the week and maybe our careers. although most of us have been on the verge of being sick and i feel like we sort of scraped by… but it was great! and we killed it! and right after we got off stage we rushed down the hall and dove into a 15 passenger van to LAX where we just made our flight within a few minutes. michael wasn't so lucky. but he caught the next flight and we all ended up in SF for aaron glass' birthday show extravaganza with
papa bear and the easy love
. katie colin andy spencer and i were there in time to open the set with aaron. it was a trip. people were stoked that some mowgli's could make it.
three cities in one day. from one stage to another… friday was a nice chill day in SF. we trekked up and down haight street just being mowgli's. scoring hats and sunglasses and new coats from goodwill. just feeling the energy in the air. it's alive.
friday night we played in santa cruz at the
crepe place
. we love this spot. they give us free crepes and they are amazing crepes. the vibe in the place is very personal and familiar to us. feels good. the show was another great one. it reminded me of the early collective shows we used to put on. everyone involved is friends with everyone else. there's just an overall love in the air. we were all so exhausted by this time so we were kind of zombies after shoving crepes down our throats, but we powered through and played an energetic set ripe with spilled drinks and bruises from running into everything around us. and after the show we piled in the van with aaron and headed down to LA. now we have one day to chill and relax and get healthy before the madness begins for real.
we couldn't have done any of this without the help of mario.
we really love and appreciate this whole journey. from the label to management and producers and co writes and traveling experiences and love and conflict and tears and smiles and friends old and new.
the reactions we have been receiving are exactly what we set out to accomplish in the beginning. we're spreading our positive love vibe. and people are accepting it and connecting to it and even spreading it. once i went to a palm reader and she said "you are an artist, and what you are doing is working. keep at it".
i hope you can feel the love and spread nothing but love. i hope every action comes from love.
-pan america

2/12/13
life is a crazy thing…
we are all traveling through this weird life with our eyes and minds and hearts open. ready for anything. if you don't have any expectations you won't be let down. if you can just be and just live and just not worry so much you will be healthy. when you worry your heart sends pulses of stress and fear through your entire body and it shoots out your eyes and pores and everyone can see it. the reactions you may receive can cause a rippling effect and you might find yourself worrying even more. this is the perpetual cycle that can send a person into confusion and insecurity.
we are all insecure. its ok. don't worry.
you are beautiful!!! believe it.
we are all just lovers!!! go love…
-pan america
5/15/12
it's been almost a year.
i've been immersing myself into the east side as they call it. echo park california.
it's an eclectic neighborhood filled with art and music and people and life. and that's just what i'm doing. being alive.
the mowgli's have conquered the mighty first album and are standing tall proud and happy.
i am in the best place ive ever been as a human.
i get to spend my days and nights with people i LoVE and adore.
my work at natural curiosities is not only inspiring and exciting, it fills my whole self with a sense of accomplishment and a feeling that i'm a part of the family. my ideas matter. and this family is behind me 100%.
in life.
in music.
in general.
my musical mind has never been so stimulated and enabled.
the mowgli's have always taken up time, but it's been time well spent. we are standing with our open minds, waiting for whatever is coming. and whatever is coming better watch out 'cause we're crazy and we're ready.
sharkitecture is finishing up our debut ep with kraig tyler.
this one is raw. its grit. it's got soul.
we have had such a blast making this all happen. kraig is great. we can't wait to work with him again and again.
a couple of the tracks that ended up on this recording, along with a few future shark songs, came from the pan america vault itself…
the outlets are endless.
the summer is coming.
get your things together and make something happen for yourself and someone else.
p&l friends
-joshua
-pan america
7/3/11
we've been working away at the mowgli's record.
it's fun.


we did some experimenting with the way we record vocals. we started with individual vocal tracks.
then moved on to doing teams of two. katie and i are team JK. we make jokes. now we're going to do some group vocals. this will get interesting…
overall the whole experience has been great. it's coming along nicely.
up next is a live recording from pan america followed by a handful of new songs.
we have a new rehearsal space and we have the month of july off from playing shows. we're ready to tighten some screws.
i moved out of the venice house on the 1st.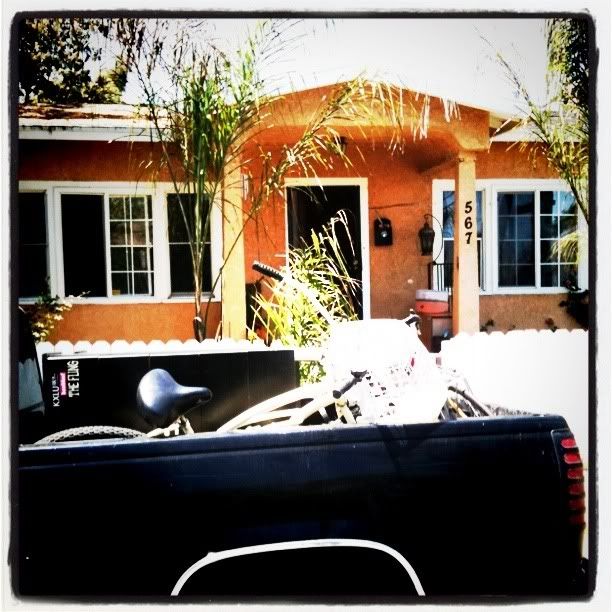 it was a pretty smooth exit but it was still a little emotional.
i met the girl who moved into my old room later that night at harvelles.
it's crazy how these circles close themselves. everything works.
to everyone who is going through some changes in their lives…
cheers.
-joshua
-pan america
6/29/11
it was one year ago yesterday that we moved into the OM hOMe…
look at us now…
ha
things change.
and change is goooooood!
embrace it
check out our show tonight on the westside –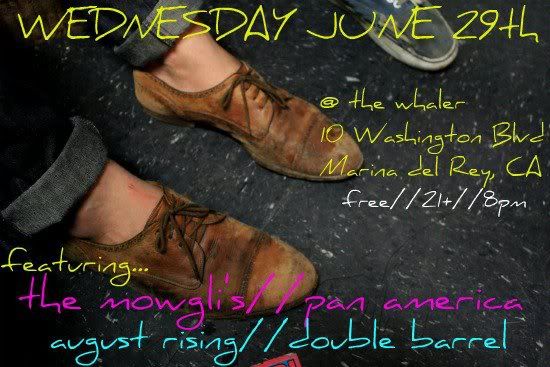 and check out the mowgli's –
"like" it or not

6/24/11
seasons are changing.
and with this change comes new life.
the crows have been flying around like tornados above my head.
and when they sit, they're talking.
scattered among branches,
telling me secrets. giving me answers.
and when i talk back we share a dialogue that only we can understand.
my dear friend zan wrote me this morning encouraging me not to procrastinate.
i thank you for this motivation zani.
…so here it is. the update.
we have some great refreshing things happening here at the pan am camp–
we've done some shifting. moving forward.
much like a spiritual cleansing.
our friend colin from the mowgli's and sing the body electric has been playing with us. it's been a great transition.
last night we played at silverlake lounge and tried a new set up. we used two acoustic guitars instead of electrics. partially because we had the acoustics with us and didn't want to make the journey to venice and back for my amp…
mikey and colin switched between guitar and bass throughout the set.
it was fun.
trying new things.
come out and see us friday july 1st at harvelle's in santa monica.
we're playing with a lot of west side friends-
makepeace brothers
carrie turner
mike UltraLove wagner
allyse fischer
and
pan america
(duh)
this will be a great night of amaaaazing music that i wouldn't want to miss.
…so who's got some good july 4th ideas???
facebook us.
on a more personal note…
i'm in a place in my life, head, body, love and heart that i haven't felt maybe ever.
it's a beautiful mix of orange and purple and gold light. it's brighter than ever before. and it was bright before. but now it's brighter…
to list a few examples,
i'm lucky enough to be a mowgli.
we're in the middle of tracking a full length record with our hombre and producer and fellow musician christian hand. i've had a blast so far making this record with these amazing friends of mine.
we listened to see i'm alive last night and it brought me to tears.
happy tears
sad tears
tears of joy.
i also have met the most amazing counterpart. a love of my life.
the person who you always thought was out there existing, but you just never found them.
they exist.
i'm happy to be so happy and to be able to make the people around me happy.
i'm moving out of the house formerly known as the OM hOMe and also formerly know thereafter as the mowgli house…
i wonder what they're gonna call it now.
(who cares?)
when i think of moving out of venice it makes me seem like a crazy person.
i live 6 blocks from the ocean. the great magnetic force that pulled me here is letting me go.
the saying goes 'if you love someone you'll let them go' or something…
well i'm moving east of the 405 and east of hollywood and los feliz and silverlake. all the way to echo park. it's not even that far really. but it seems like it when it takes you an hour and a half to drive there.
i'm very excited for the change of pace and location. i've always been intrigued by change.
now i've got a whole new neighborhood to infiltrate and a few directly surrounding it. i've got my work cut out for me as i don't have any band members living with me to help spread our vibe. but i don't worry.
echo park we're coming for you. i hope you're ready to let down your arms and smile a little more.
i'll be in touch about all the transitions.
for now let this be a reminder to us all via zani, who is probably swimming a lap around her island in the mentawai's, lets not procrastinate.
love to you all,
-joshua
-pan america
5/17/11
this is a day for living and breathing and dancing and listening. i wouldn't want to miss it…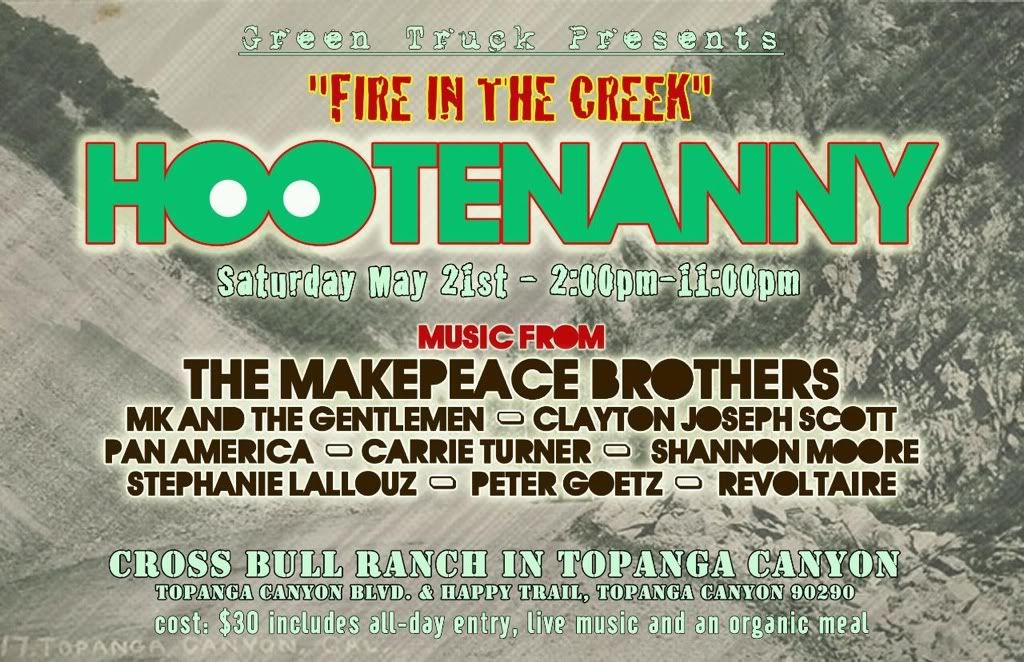 4/14/11
we are all epic winners.
…
lately i've been in a state of transition with no real answers or plans.
i tried really hard not to stress out about the fact that i don't know where next months rent is coming from.
i'm pretty good at not stressing about things and stuff…
it's a good feeling.
i've put my trust in the idea that you can manifest things you need in your life.
positive affirmations.
they really work!!!
now i'm all set as far as paying my bills is concerned, and i have all the time in the world. it's almost like having a clone of myself.
one person brings the bacon and one does whatever he wants in a very productive fashion.
…
we have a lot of news on the pan america front line.
our live ep recording at harvelles was a huge success.
winning!!!
we will have the mixes and release it very soon.
i've been thinking about a name for the ep.
but we're probably gonna go with 'an evening with pan america, live at harvelles'
who cares…
…
i went into the studio with christian this week to track some guitars on the mowgli's record.
i must say it's coming along very nicely and i'm sooo excited to track vocals and spread this music to the world.
…
the mowgli's took a much needed trip up north to san francisco and santa cruz.
we played 4 shows in 3 days. all of which were a big success.
we got a write up on supergoodmusic inspiring stuff.
once again… winning!
HUGE shout out to our good friend aaron glass. thanks for putting us up and booking three of the best days of our lives.
much love wolf brother.
…
our friend jason from lost squad has a blog.
check it… divergentstorm.tumblr.com it's controversial, and some say he's crazy, but who isn't?
we all need a little controversy now and then. eat it up!
…
i'm in maybe the happiest place on earth right now.
maybe it's not on earth, maybe it's in my head… either way, its inspiring.
i'm writing. in a huge hurricane of writing. and i have some of the best people around me supporting me.
even the ones who aren't here holding my hand and laughing face to face. i feel you. and i thank you
pictures to come…
much peace and love
-joshua
-pan america
-and friends
3/1/11
we had a pretty amazing weekend.
the mowgli's played with aerial stereo at Southern California Institute of Architecture.
it was a very interesting situation. most of the people at the show were students. nice looking kids with great imaginations and filled with passion. it oozes from them.
and i'm thinking to myself… how good is it going to be when these are our city planners and builders?
everything in the building seemed to be focused on sustainable living and recycled materials and alternate energy sources.
some kids were at their desks working. some were pretending to be doing something. some were skateboarding thru the building and some were drinking beer at their workstation. it seemed like a great place to be learning.
the show went very well. everyone was hanging and drinking keg beer from red solo cups.
classic after school special.
huge shout out to magenta for hooking that one up. she scored us free beer and pizza. i'm into it.
the night was rainy. had an overall erie vibe.
zan and i decided to follow through with our plan of going to san francisco.
we left downtown los angeles around 10:30pm.
it was a great road trip. we took the 101 because there was snow on the grapevine. the rain stopped just north of los angeles and the road was pretty clear the whole way.
the overall plan changed a couple times on the way up. our friend aaron glass was playing in santa cruz on saturday, and knowing that we wouldn't see zan's parents until sunday, we decided to go to santa cruz first.
around 3:30am saturday we decided to just pull over and sleep for a few hours then head into santa cruz and hang there all day. so we exit, drive past the gas station and the overnight camping area and the rv park almost like we both knew where we were headed. but neither of us knew where we were headed…
zan started to turn around and we stumbled on a dirt road leading behind the rv park and gas station. we looked at each other and without any words we were on the dirt road cruising to the unknown.
as we went further down this path i realized we were on a ranch and most likely trespassing. i told zan of my feelings so we went to turn around. just like the first time, when we turned around we saw the path continue to what seemed like freedom. it was. but the path got muddy. and we got stuck. stuck on some path in some town we don't know.


we tried and tried to get out of the mud. aaa couldn't help. no one could, so it seemed. after a couple hours of worrying we decided to sleep in the kia suv zan rented and re evaluate the situation in the morning. putting all of our faith in the men we met that said they would help but they needed to get chains and come back. we fell asleep around 5:30 and at 7 were woken up by two farmers with a tractor and a chain.


i jumped out of the car and started thanking the men and asked what i needed to do. they replied with "no english". so i jumped back in the car and threw it in neutral. they hooked up the chain and slowly pulled us thru the swampy path to paved safety. we hugged them. they thought we were weird for sure…
zan even gave the men all the cash she had on her. $30. later that money came back to her, and again she gave it away only to have it returned one more time.
i thought about traveling the world with zan and how this kind of thing is going to happen a lot. so this was sort of a test for both of us. we kept our cool and both learned lessons.
when we got in the car on the paved road we hit the highway fast. about 3 miles down the road we decided we wanted food and we wanted it from the diner at the scene of the crazy evening we just had. so we turned around and went back to the wildhorse cafe.


as we were sitting eating breakfast i realized that if we had stopped and slept in the car and not had a crazy adventure in some mud, we would be right there in the same place at the same time eating the same breakfast. only we wouldn't have any good stories to tell…
on with the trip. still haven't made it to san francisco…
before going to santa cruz we wanted to stop and say hello to zan's grandparents in carmel. we had a nice visit with them. i learned more in that 30 minutes than i did my whole senior year of highschool.
all about lybia and north africa. i don't have a tv and i don't watch the news. it's a little weird but it frees us so much time for making art and music. it's a trade i'm willing to be a part of.
anyway, after the talking and tea we hit the beach. it's soooooo beautiful there.
i recommend going.
abby had maybe the best day of her life.


she usually runs away from the waves at the beach but this time she splashed around in some tide pools and when the waves came in she wasn't scared. or she wasn't as scared… making progress!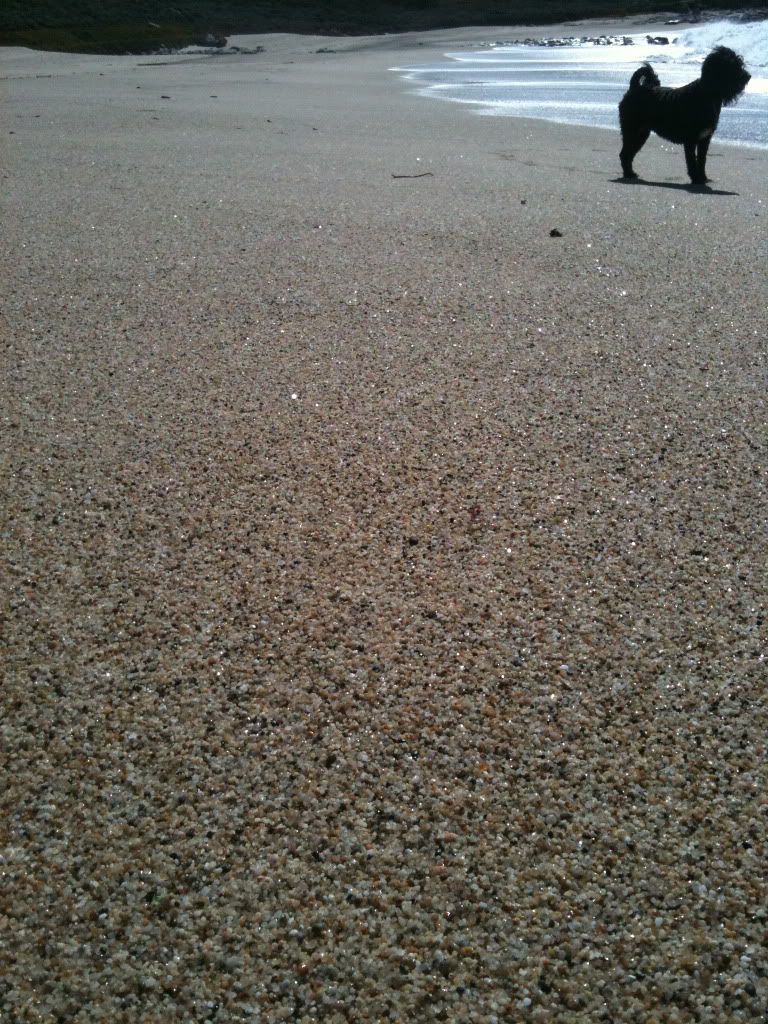 abby rules.
i got a panoramic photo app for my phone.
this happens now…

i somehow don't have any photos from aaron's show but i know you believe me when i say it was an amazing time. the venue was called the crows nest. there were fun and beautiful people all around me, dancing and singing and smiling. aaron is coming back to venice for another night at the whaler march 30th. flyer coming soon!!!
after the show zan and i drove to her parents house in moraga where we slept like babies. woke up to an amazing breakfast and some great company. we played music together as zan packed her bag for the island life. i went out on the golf course with zan's dad louis for a quick 9 holes. we met some new friends and fed them bloody marry's when we got to the 6th hole by their house. "bar's open!!!" louis announces with a deep and long voice. this man is amazing. now i see where zan gets the outgoing energy. i like it.
after an amazing dinner of veggie tacos con sriracha we hit the road back hOMe.
we got back to 6th and broadway at 3am monday. we were greeted at the back door by a smiling spencer and ben hogan. we exchanged stories of our weekend adventures and went our separate ways to crash.
we never actually made it to san francisco on this trip to san francisco… but it was still pretty good.
sometimes i have to remind myself of how amazing i have it. i really do love my life and all the people in it. we are all brother and sister through anything the world throws at us. we survive on each other.
so to the people around me. my brothers and sisters in life. i thank you for being here with me on this journey.
i LOVE you.
2/15/11
this is our life

welovenice
so this morning as i was updating the blog i wanted to make a link at the top of the page for FEEL GOOD so i googled it. and i found this site. and i was inspired. so i encourage you to check it and if you feel inspired too, do something about it. anything. i'm blogging about it.
in other news, i can't stop listening to arcade fire.


i just downloaded "the suburbs" here for $3.99
you should too.
2/13/11
venice is alive again.
so it seems…
friday night we played at the whaler with ben hogan, aaron glass, sing the body electric and the mowgli's. if you've never been to the whaler, i highly suggest going. it's on washington blvd at the boardwalk. a very short walk from the venice pier and a nice place for an impromptu drum circle.
the show was really great. although the friday night crowd was a little different from our usual wednesday night vibe. we had a great turnout of close friends and a lot of people just passing thru to check out the music.
ben hogan opened up the night with some great acoustic tunes. he did a cover of blowin in the wind, which i thought was cool because just two days before we were in the kitchen learning it together. peter and i played with our friend aaron glass for his set. i jammed along with my acoustic and pete played the cajon. we had a nice jam earlier in the day on the porch so we decided to play with him at the show. it's always fun to just go for it!!!
after aaron played sing the body electric went on. they played an acoustic set and i have to say it was one of my favorite ways to experience them. look out for these guys! they're about to storm sxsw in austin.
next was pan america. we had such a fun set (as usual). met some new fans. gave away a bunch of cds and even got some donations. we did a nice rendition of "i got 5 on it" and after about a minute of talking shit to shaky hand's he came up and did a nice verse. check him out with lost squad, they have a great new record.
last was the mowgli's, who almost didn't get to play, but we closed the night with a huge smash. the mowgli's haven't been playing shows over the last few weeks because we've been in pre production for our record. it's funny but there has been some talk around town about it. people are spreading rumors that we're not playing anymore or that we're breaking up, ect. none of which are true i'm proud to announce!
it was fun playing three sets in a row. i was thinking about the last time i saw fun. they played at the henry fonda with steel train and jack from steel train plays guitar in fun too so he did this whole tour playing and singing for steel train then immediately going on with fun. double duty is a good thing but after a whole tour i'm sure it's rough. so cheers to jack for that one. it was amazing.
after the show we mobbed to the hOMe and apparently everyone else got the memo. it was very similar to the party vibe last summer, only this time we knew everyone that was in our house. we danced in the kitchen to a remix of "who knows who cares?" by local natives. not sure who did the remix but it was a really really good one. i love kitchen parties. this was one of those nights where you see the sun starting to come up and you race to bed and tell yourself that you're totally normal…
saturday night in venice-
i was standing on the porch with aaron's girlfriend amber and i noticed some neighbors on their porch across the street. i made a comment about how weird it was that i've never met these people and the fact that i'm not always feeling super outgoing so i haven't just walked over and said hello. after about 5 minutes i came back outside and heard them playing guitars and singing on the porch just like we do. so at this point i realized that now is the time. i rallied a few people and we went over to say hi. it was an amazing experience. we grabbed some percussion from the house and had an epic jam. their porch fits at least double the amount of people that ours does so it was really comfortable. we did a song trade off. they did one of theirs then colin did one then me and aaron. by the end of it we were all jamming along with each other. a classic venice moment.
after the epic jam they cooked lobster tail po boys, which is pretty intense, i know. it happened. the food was amazing. such great hospitality. i almost feel dumb for not meeting them before but either way, we met them now and from here on out we have some great new fellow musician neighbor friends.
the rest of the night was so surprisingly epic that i'm going to just say this. venice was so alive. people were out everywhere. cabs were cruising the hood. people in going out clothes were stumbling around the streets. i was on a never ending adventure of a lifetime all over the neighborhood. abby was my co pilot and i had friends all around me. it feels like summer.
smile
2/10/11
i feel free.
more free than i have ever felt…
so what do i do with this freedom?
i harness my craft, being music and art and writing and bike riding down the coast, and making hand crafted goods for my fellow pan america fans.
i am one lucky human.
lately i've been making a lot of custom pan america eps here at the hOMe.
i've gotten back into the stenciling and spray painting flow.
i made this poster stencil for our monday residency at harvelles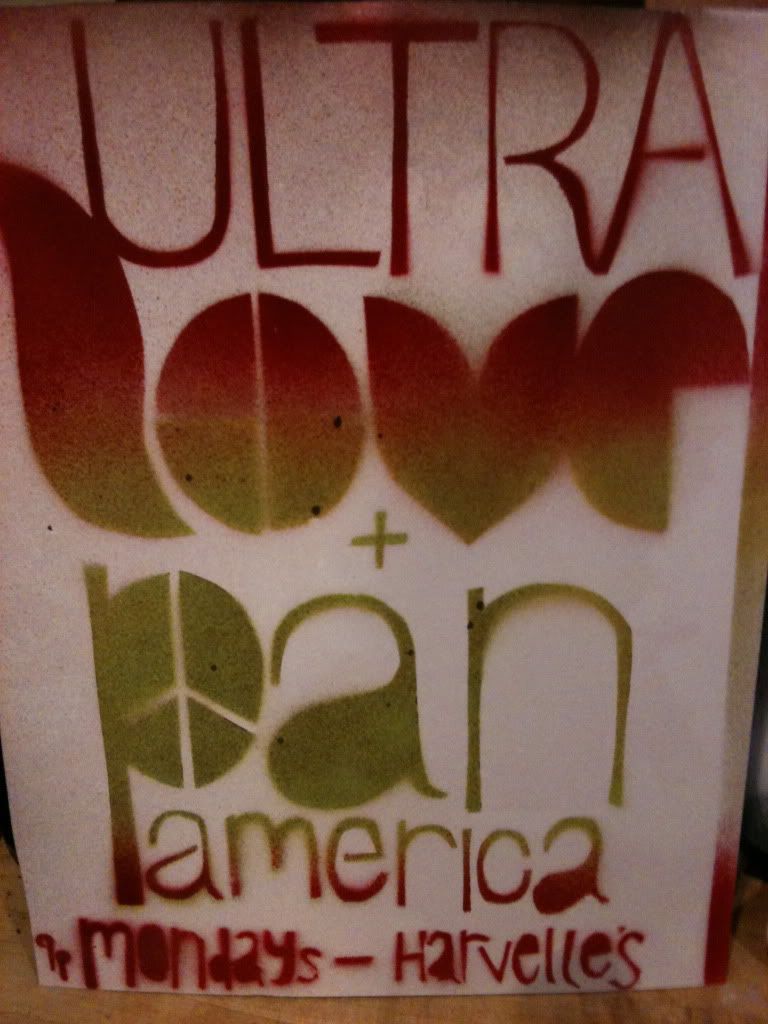 and this is the never ending cd making process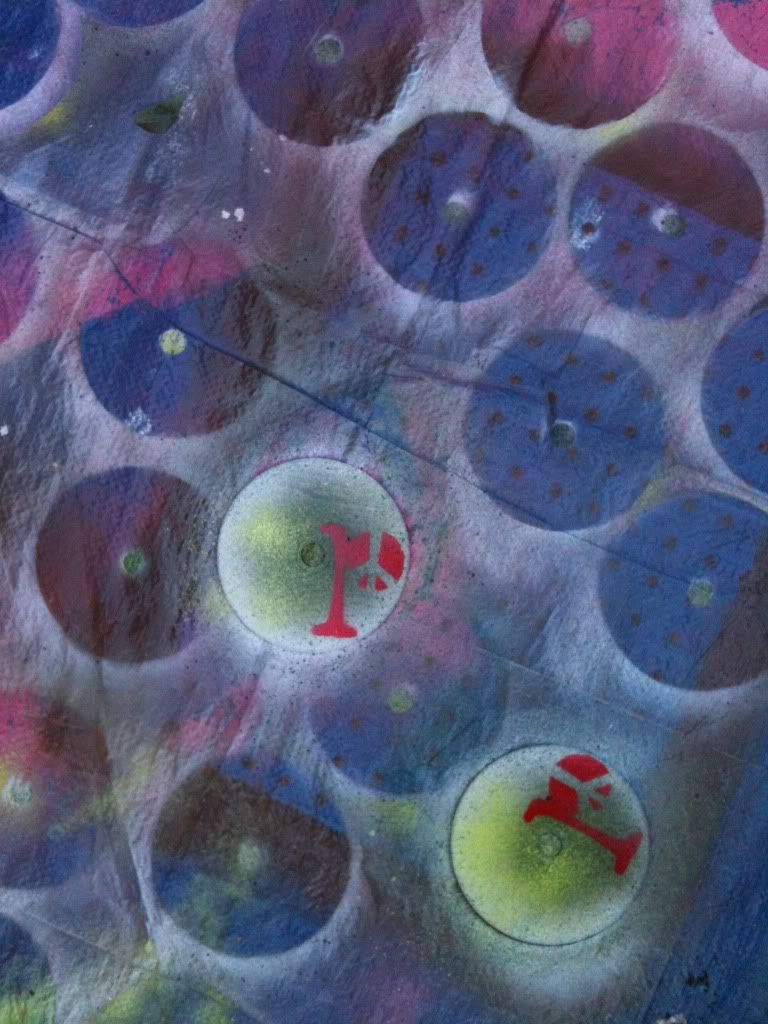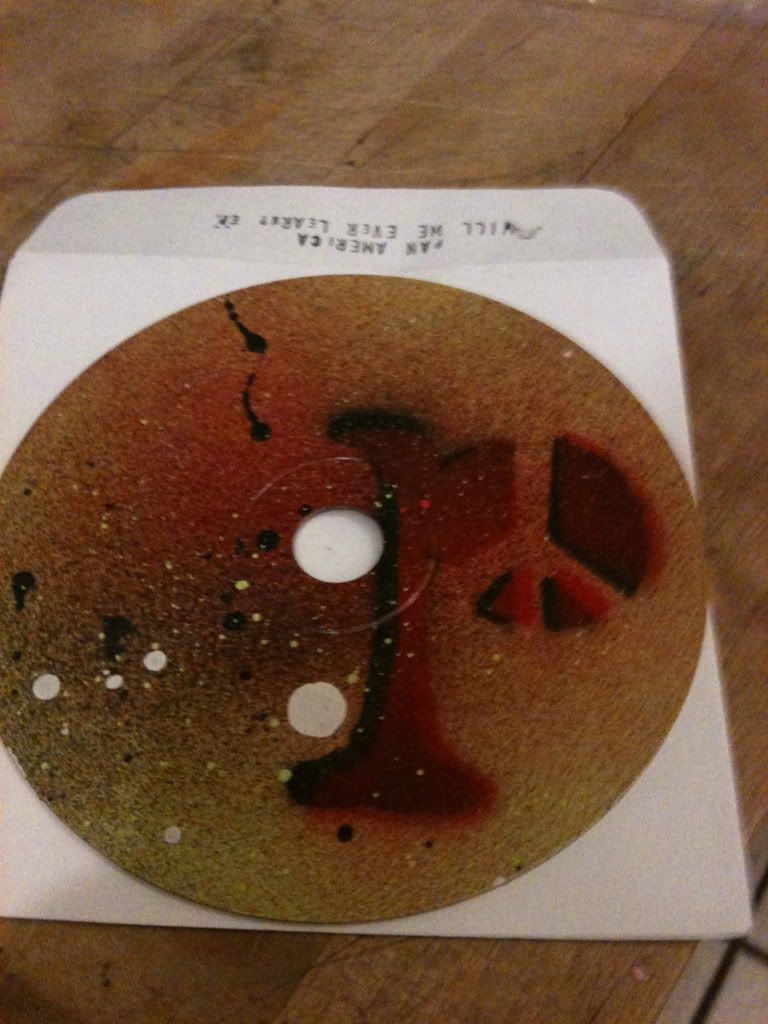 yesterday ben hogan had the day off so he and i took a nice bike ride down the coast along the bike path. first we wanted to go to redondo beach but we got a little side tracked in the morning. we ended up in santa monica buying hawaiian shirts at goodwill. when we got home we ate some free food from the endless cabinet of wonders and mystery, then we were off. once you get out of venice and past the marina the bike path opens up to a very nice and clean situation. the beach was combed and there were hardly even any people around. ben and i rode our bikes no hands style at least half the way down…
here's a few photos from the journey south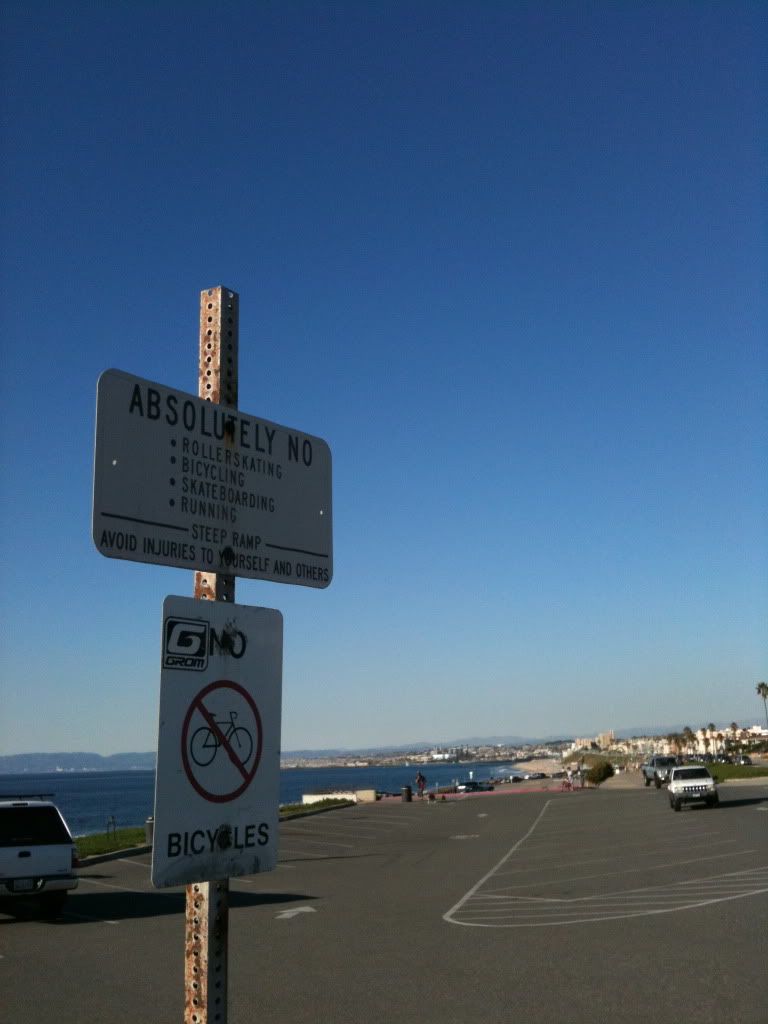 the view from up the craziest hill i've ever ridden. in palos verdes looking back towards hOMe. notice the snowy mountains and downtown LA. crazy view
and a couple on the way home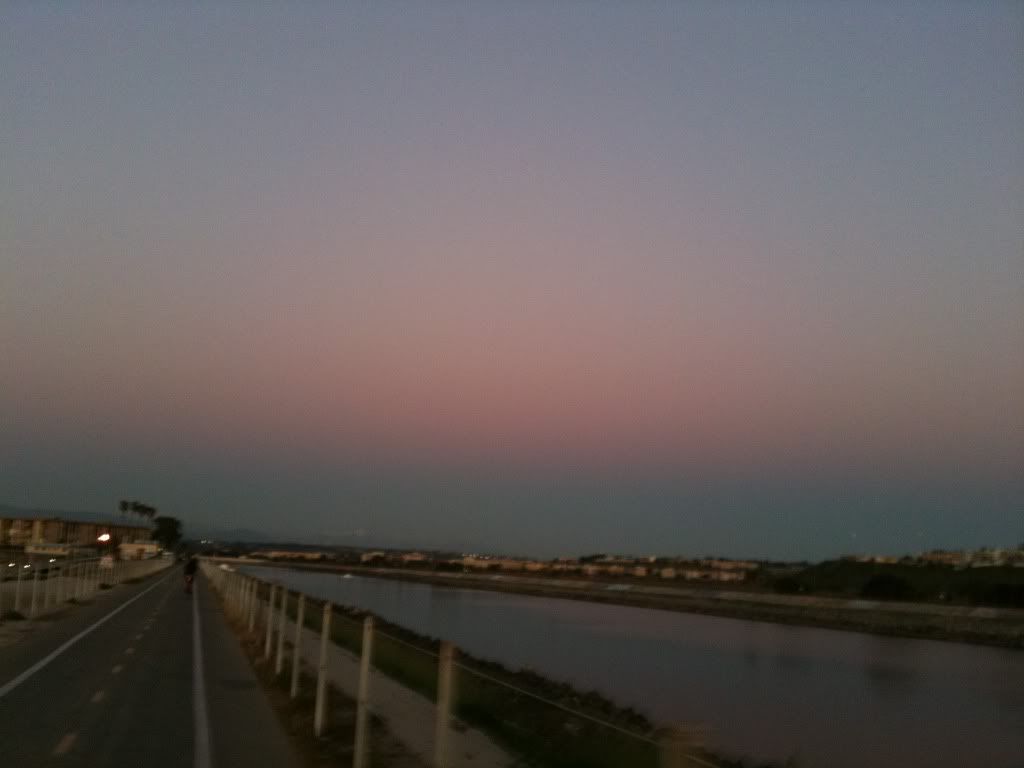 living in southern california you can always discover new things. something you've never even seen is just right around the corner. or down the bike path a few miles in this case.
you can keep a constant feeling of being on vacation. this keeps me from going completely crazy.
i would like to encourage everyone to embrace where you are. may it be up high in the mountains or near an ocean or even spreading your wings in the great plains. we can always find something we love out of everything. take it in and appreciate it.
2/3/11
well it's a new year.
january flew by!!! pan am has been opening for ultra love at harvelles every monday. what a fun night.
i recommend you check out ultra love asap.
the mowgli's got a feature on the owl mag!
check it here
the mowgli's went up to santa cruz on saturday the 15th for a show with our friends david block and nate siggard. this was my first time in santa cruz and it was an amazing experience. the drive up pch is amazing. i would encourage everyone to take that drive at some point if you haven't. we saw elephant seals, went thru big sur, walked along beaches and took many photos and video. we'll share as soon as we can :))
in santa cruz we were taken in and treated like family, much like we do for people who come thru venice. it's all a balance. the venue was pretty amazing. in the front is an indian restaurant and thru the doors in the back you are introduced to a huge room filled with art and hippies. it was like when dorothy walks out of the house in oz and everything is colorful. the first act was mellow. everyone was sitting down almost as far away from the stage as they could be. there was an interesting moment before our set. all of us weren't there yet and we had to stall a bit. but when we were all in effect the show got off to a smash. everyone stood up and started dancing. on see i'm alive even the artists at their booths in the back were singing along and smiling. this was an amazing feeling.
many thanks to everyone involved.
saturday the 22nd we went to the big bass variety show at area 33.
the mowgli's had a tentative 5am set. and half of us had to work the next day…
things got rearranged and the mowgli's ended up playing at 11pm which was nice. we could do whatever we wanted after the set.
the party was really epic. many amazing people came out which doesn't surprise me at all considering our neighbor bc put the night on. i ran into some old hollywood friends from when i first moved to LA and played with oh no not stereo. and i ran into new friends from the west side. lots of connections. it was great.
magical planets had their loft stage vibe going the whole night. a new band called indians played under the loft stage. it was amazing definitely check them out!!!
this was one of those nights where you leave after the sun comes up and you make a crazy decision to go to mexico or something.
last friday we played at obriens with our friends pera and friends in low places. great vibe.
we had one of the best obriens shows to date. for sure.
it's nice to meet new fans that come to all of your shows. and it's nice to see that we're actually making an impact on the west side just like in my vision last winter.
this is called manifesting.
it works.
for now we've been writing and getting ready for the mowgli's record. this is really exciting to be making a record with all the mowgli's and christian hand. it's long overdue as far as i'm concerned. but i'm very happy to be at this point with the band and the music and all of our relationships.
next is the new pan am ep. there will most likely be two eps released a few months apart.
so much new material. i'm really excited to share it with everyone.
12/15/10
the mowgli's played the LOVE festival downtown LA.
when i was on my way to the show i got a call from matt dipanni saying that the vibe may have been compromised. the park rangers were trying to shut the whole thing down with aggression and guns. this was a LOVE fest and they're threatening people with guns. sound familiar?
well our friends who put on the festival did their research and put the rangers in their place. the show must go on!!!
so the mowgli's played and turned the whole vibe around. many people had left due to the weird vibes, but the ones who stayed gathered and danced and smiled. i feel like we swooped in and saved the day or something.
COLLECTIVE 7!!!
this time we had our collective show at central in santa monica. i really love the fact that we're uprooting our lives to the west side. even collective shows.
collective 7 was a huge success! lots of great people great music.
pete and i made the first run of homemade pan am eps. gave them all away. huge success :))
we had a great set. i really like this venue. we'll continue playing at central for many moons to come.
i just did a holiday trip to oklahoma.
it was pretty epic to say the least.
i flew in on thursday night, ate dinner with my dad at cracker barrel then went to my old drummers house. ty and i grew up together. he's one of my oldest friends. love that dude.
so he took me to a redneck bar outside of town. there were three people there when we showed up and the owner was telling us about how she followed ty home the week before to make sure he didn't die… he didn't.
our friend chris me us and we broke out the karaoke machine.
a bunch of jamesons later we had a whole list of 80's songs going.
we went back to ty's place and someone decided it would be a good idea to break out some guns. and shoot them… so i, being the gun virgin that i was, got really excited! ty hands me a shotgun and two shells and i went outside, loaded the shells into the shotgun (somehow, its foggy) and proceeded to shoot the shotgun at the lake behind ty's house. ty comes running out
"dude, did you just shoot the gun?"
"yeah, isn't that what we're doing..?"
"no you can't shoot guns inside city limits!!!"
keep in mind, we're in the country. i don't know where these "city limits" are…
and don't hand me a gun and shells and think i'm not gonna shoot it at something.
so the neighbor comes out and he's like
"what the hell!?!"
ty says "sorry my friend didn't know we were in city limits"
then the neighbor says "i got a gun on you right now!!!"
this is the crazy moment when ty chris and i all look at each other and look at our loaded guns and we're like ok, everyone move very slowly towards the house…
things could have gotten weird. but they didn't. so i'm happy.
and still alive. and not in jail. success!
so the quote of the trip became "i got a gun on you right now!!!" amazing.
the next night i was downtown with my amazing friend emily and we stumbled upon a small bar where they were having open mic night. when we walked in an old hippie guy approached me and asked if i want to play. i've never seen this guy before as far as i know… but i accepted! i was kinda stoked.
somewhere between then and the time i played i got real drunk. i met troy aikman's son and he was feeding me jameson. i went with it. but when i got up to play i could barely sit on the stool. i dropped the guitar at least two times while playing will we ever learn. it was pretty terrible. and i was really bummed about it. but in hindsight it's just funny.
the rest of the trip was a little more mellow. i chilled with chris gaylor a lot which was nice.
my mom took me to the cherokee trading post and i got a new poncho and hat and headband. good vibes.
this was the first time i came back from oklahoma and didn't want to move back there immediately.
i find this to be a great sign. i'm a little less confused, a little more happy and i LOVE where i am!!!
LOVE where you are. if you don't, change it.
11/27/10
soooo many amazing shows just happened…
the mowgli's opened for vintage trouble at harvelle's.
pan am played with kyle nickolaides and lakes at on the rox.
then pan am opened for ultra love at harvelle's.
and finally rediscover!!!
rediscover played our first LA show in a really long time at club moscow. and i wore sunglasses the whole time. so i don't know what really happened. i couldn't see a thing.
it's been such a blessing having all these amazingly talented musicians so close to me. and getting the opportunity to play in these bands and play this often all over los angeles. it's truly a gift.
thank you
i had thanksgiving with the berman family. they invited me into their home and they treat me like i'm family. i LOVE you bermans soooo much :))
i got to meet the co-founder of mowtown records. he sassed me up and down until courtney put on will we ever learn. he turned to his wife and at the same time they said to each other, "this is nice".
now, the reason this is such a huge deal to me is that this man managed michael jackson and diana ross to name drop a couple…
he told me i have a good voice. the guy who convinced mj to go solo told me i have a good voice and likes our music. to me it doesn't even matter if anything comes of this. it was a genuine moment and a compliment that has preceded all other compliments.
something i will remember for the rest of my life.
10/26/10
last night we played cranes tavern in hollywood. this place is my old stomping ground. when i lived in the hood i would walk down every monday and wednesday night for the latest haps. when people tell me that they can't find any good places or good bands around LA first i laugh, then i tell them to look around. there are pockets of amazing culture happening right in front of our faces. you just have to put yourself out there and look. open your eyes. really open them. talk to people. exchange numbers. don't be afraid.
ok enough with the rant…
back to the show.
we played with our good friends the downtown train. this is always a fun night.
sadly, cranes is closing next week. the last homework monday is with the diamond light and the downtown train. i'm going for sure!!!
10/19/10
i turned 29 yesterday.
i feel really good about it.
i wore a suit to work. washed dogs in it and everything…
good vibe.
i went to cranes with zan and some other hOMies. friends of mine actually drove from venice to hollywood. that's huge. thanks friends :)) and thanks to the bar tenders for giving me free whiskey all night!
two weekends ago we went to bakersfield for a mowgli's show. met some new friends and checked out a studio where we may track drums for the upcoming full length. i personally ate some fungi on the way up. it's amazing driving thru the grapevine with the top down and the sun setting. and your face melting… all the beautiful colors put my mind at ease. it's almost like a form of pre show meditation. i try to do some sort of meditating before shows. clear your mind and just breath. calm your blood. listen. wait. be.
the show was a smash.
i really feel like these last couple years of my life have been filled with abundant growth and transformation. this is an amazing feeling. looking at things in hindsight, i wouldn't have it any other way.
let this be the lesson for the day.
when we go through a big change or tribulation it's good to have a detached mindset. look at the situation from all around. every single hidden angle. OPEN YOUR MIND! and once we have seen the whole of the situation we can react. usually when we do this we realize how much most things don't even really matter in the grand scheme. and when we react out of the initial emotion we always make things worse.
practice this theory. let me know how it turns out for you :))
10/4/10
coming home from ohio was nice. it's really great to love where you live.
i went straight from the airport to obriens for the mowgli's show. it was a great way to return hOMe.
apparently LA had the hottest day in history on the day i got back. so i get off the plane in my hoodie and heavy coat only to be kicked in the face with thick hot smog. not cool. it was 9pm and the temp must have been in the 90's. that with the bad air quality and a couple layers too many made for a bad cocktail. like an irish car bomb. or a bloody marry. you get it…
we have a lot of shows coming up this month with the mowgli's and pan america, so make sure you check in on the main page for all the updates and flyers. we're stoked to be alive!!!!
i hope you are to :))
9/27/10
ok, so that happened…
one more trip to Toledo OH with rediscover

i've taken it all in, seen it from all sides and embraced this mini tour. and i'm grateful.
i love playing with rediscover. i love wes and ian so hard. and i love seeing the smiles on these kids faces when we play those dancy tunes. i'm so proud to be a part of this band and i'm extremely happy to have rediscover in the collectiveCA family.
thursday in Bowling Green OH:
we played a venue called howards. this is a really cool place. the sound is weird because of all the brick walls and the strange monitor set up. not that this would stop anything… it's just weird, that's all. our friends TeamNate and CDVR played just before us. i have grown to love these guys.
our set was really great despite the 8 month gap between the last time ian wes and i played together. the turnout was mid level whomp, but the kids that were there LOVED every minute of it and they showed us by singing every word to every song. we don't even know every word to the songs. so it actually helps!!! thanks

we did an acoustic song in the middle of the crowd inspired by early pan america shows. it went over very well.
after the show i met a girl at the bar who wanted to introduce me to a friend down the street. so we walked a block or two down, through an angry mob of college kids. i told them all to calm down a bit which they didn't. i later found out there was a huge fight in the street. actually in the street. i'm glad i wasn't there for that…
so we get to the other bar and this girl orders a shot for me and alan from TeamNate. then the bar tender is like "who's gonna pay for these". the girl just ignores him. so i pull out my credit card to pay for it but it's declined. classic. i didn't even want the stupid blue shot. i should have never left howards. lesson learned.
girl – you suck.
friday in Toledo OH:
this is the hometown show for rediscover. i came to Toledo with wes last december and had the time of my life. so naturally i was totally into coming back. actually i've been pushing for it since december.
we sped through the sound check so we could make a dinner reservation at an overcrowded italian spot. it's cool, i got a free meal. and lunch the next day too. boom.
after we set up the merch table our friend blair showed up (maybe the prettiest girl i've ever seen..?)
she wanted to go to bretz. this is the gay bar where we met thunderpussy the drag queen. i wish everyone could know thunderpussy…
i was in. she didn't even really have to talk me into it. so blair, her sister and her friend (i'm really good with names:) swept me away from frankies for a quick dance party.
this time bretz wasn't so crazy. everyone was sitting at tables and we wanted to dance our faces off. so we looked at each other and without really saying anything we left.
lucky for us it was 'old school hip hop night' at wesley's just down the street. we went, we danced, we left.
got back to frankies just in time for the rediscover set. seriously, it couldn't have been timed better. sorry to CDVR for missing that set :-/
you really have to love playing a hometown show. people give you so much love. even me, although i'm not from Toledo. so thank you to everyone for being so great! we did a live broadcast of this show. something we've never done before but we will start doing at EVERY show we play from here on out!!!
after the show people wanted to hang so we made a plan to go to ian's apt. i dropped drunk wes off with megan and went over to ian's only to find him asleep… the crazy thing is how i found ian's apt. i knew how to get downtown, but i had no idea how to find ian's place. when i got to madison st. i thought of the lovely madison from aerial stereo and i took a left. one block down. bam there it was. so weird.
since no one was hanging i decided to find some food, then i got lost in Toledo. didn't even mind. it was peaceful. just me, driving someone's car that i don't even know through a city i've never driven through by myself. i did find an IHOP. it's always entertaining going to IHOP in the middle of the night.
saturday i slept in until almost 3pm. my excuse is that i'm still on Venice time… ha. oh and the IHOP excursion.
i had a very relaxing day. detached. did some reading. took a bike ride. actually wes and i took a bike ride almost every day that we were here. we saw a movie in a theater which is something i rarely do. it was gooood. so normal.
sunday in Mount Clemens MI:
this was one of those shows that keeps you grounded. just when you're about to get an ego you get slapped in the face by a weird town with only one coffee shop and a turn out that reminds us why we promote shows (or don't). i met a really great band called sunlight ascending. they reminded me of explosions in the sky meets the appleseed cast. two bands i LOVE. i encourage everyone to check these bands out
it brought me back to the days when i took road trips to Lawrence KS with some oklahomies to see the get up kids and friends. wes and i even listened to the anniversary on the way. strange connections.
today wes and i are wrapping up the trip. i can't wait to get back to Venice and play a show tonight with pan america and the mowgli's.
something to consider:
try to detach yourself from your everyday life. you may see things you don't see now. you will feel things you don't feel now. you can appreciate things that you don't appreciate now.
i love where i am. i hope you can all have the same outlook.
9/13/10
well…
i haven't been on the ball much lately. not at all.
i'm not even mad about it tho.
venice california has been a gift. after only living here for a couple months we have made so much progress and it feels like we've been here for years. i keep talking about the things that set venice apart from the rest of LA. most of all i see the people around here have open hearts and open arms. we are all connected. people notice people. and they say hello, maybe even have a bit of conversation. somehow everyone knows each other. someone i know knows the person i'm about to meet and it's a never ending growth from there.
the mowgli's were lucky enough to get on the bill as the openers of venicestock yesterday. this was all because of the sense of community and connection in venice. here's a photo of the history we were a part of making.

i keep having the best day of my life. it's nice
in other news…
last week was great for us at the pan am camp. we opened the collective 5.5 show at the ac supper club in venice. the pan america line up for this one consisted of 5 mowgli's. 5 mowgli's who all live together and play together every day. the energy between us pours out when we are on stage together. it's magic.
also this was one of those shows where i rode my bike to the venue. it's a good feeling riding 5 blocks to play a show then cruising home still drenched in sweat and freezing cold. very exhilarating.
5.5 was a very successful night for all of us collectivians.
earlier in the day i got a fortune cookie that read 'love is around the corner'. i believe that love is right in front of us. all around us. even around the corner.
friday night we booked it to the house of blues on the sunset strip. last minute of course…
we made it just in time for our set. it was a great time. same line up as thursday night. the room filled up as we played into our set and we were able to feed off the energy of the people watching us for the first time. old and young, all tapping their fingers and toes.
we keep learning, keep living and loving and being.
we set intentions for every day and we bring light to those around us who are in the dark.
come to venice,
see how we live.
new music is being made on the daily.
i can't wait to share it with you.
-joshua jon-michael hogan
7/15/10
i begin with this –
last night at club moscow we crossed a threshold. pan america is alive. i say it and i mean it.
those of you who came to our show,
thank you for supporting us last night. we appreciate it more than you know…
thanks to keith and everyone at boardners for putting up with us. thanks to the people who lined up around the corner and didn't get in. thanks to the dance party that happened after. thanks to my amazing friends. thanks to all the beautiful women.
thanks to Aerial Stereo and The Diamond Light
we LOVE you
so…
i found this in the vault from the toms one day without shoes.
i'm not as dumb as i sound.

and the march- "it's stuff, it means something"

fun stuff here…
more to come.
remember to smile at strangers. especially in hollywood.
7/14/10
tonight is the night-
we're all so excited to play club moscow tonight with our friends aerial stereo and the diamond light.
this is going to be one amazing show
we have some great BREAKING NEWS!!!
we've been asked to play the sunset strip music festival!!!
along with our brothers (and sister) sing the body electric.
our set will be at the cat club on thursday august 26th. these are all the details i have at this point…
the rest will be here shortly.
…today feels like one of those old oklahoma summer days where i sit waiting, watching the sun go down so it cools off a bit. i'm dying here. i have been spoiled by the venice weather so hard…
and now i sit here in this apartment in hollywood where i'm dog sitting. waiting. watching. hoping the sun goes down and i can breathe again. i miss venice. and it's only been a week.
this is something i have realized about myself thru my never ending self realization process.
i attach to things. and people.
i do it quick and i do it hard. this is not healthy.
being in my old neighborhood in hollywood has been a roller-coaster. it started out with a sudden feeling of loneliness and fear. then after a few insightful words from mr christian hand, i pulled out of the funk. now i'm seeing the beauty again. i miss it. although i still work in this hood, i feel a disconnect.
on the bright side,
it's nice to wake up and walk a block to work.
it's nice to meet pretty girls with dogs at the coffee shop.
it's nice to browse the religion section of counterpoint book store searching for insight.
i'm up and down. up and down.
but it's the people around me who hold me up high and they hold me tight. they keep me alive.
we keep each other alive. it's a cycle. a life cycle.
remember that when you see your people. remember to cherish them. and let them know how much you love them.
I LOVE YOU
7/5/10
barely even alive…
i was on my way to work today in spencer's van and i decided to call to let them know i was going to be at least 30 minutes late, and i wasn't even sure if i was supposed to work at all. so my amazing friend bridget informed me that the groomer i was working with is sick. so i didn't have to work…
i'm sooooo glad i didn't drive all the way to hollywood.
i'm sooooo glad i don't have to work today.
now i'm at our local coffee shop (the one with free wifi) with peter. we're chillin hard right now. slowly remembering things from last night. and all the other nights since we moved to venice.
-i love my life-
WE HAVE A SHOW!!!!
july 14th at club moscow
with our grrrrreat friends aerial stereo and the diamond light!!!
two amazing bands. if you don't know them check them out asap.
i can't even believe i'm awake right now.
so i leave it at that.
i love you for reading this blog.
peace
-joshua
-and the rest of pan america
6/21/10
wow…
what a weekend the collective CA had.
thursday night Lost Squad played an energetic set at boardners in hollywood as if they were playing to 20,000 people in a stadium. Their live show is amazing!!! I suggest checking them out.
also, the collective 4.5 at the air conditioned supper club in venice was a hit!!! i was actually told that our crowd was at least 10x bigger than the usual crown at the venue. i don't believe everything i hear, but i like to believe this one… sing the body electric, aerial stereo, d hollywood, spankie valentine, open hand and the mowgli's. what an amazing line up. the show immediately followed the lakers national championship victory so everyone was in good spirits. even more than usual.
friday night the mowgli's played at borderline with our friends no country and others. we met country music sensation john rich. he was really into the music so he got us wasted and let us hang in his vip section. he and i had a whiskey chugging contest. he won. barely. but his had coke in it so i call it a draw.
at the end of the night he mentioned to colin and me that he wanted to play some johnny cash songs. at this point i was thinking 'yeah i totally want to see this drunk country singer get up and play some songs in front of a bunch of hipsters'. then he did it. and it was pretty amazing!! i don't think i could have pulled it off as well as he did. his liter of crown royal reserve was almost gone (no thanks to colin and me) and he put on a great one man show. banter and all. it did however go on for at least an hour. and then it was open drunk jam. which turned out to be a bad idea…
saturday night i went out to hollywood with a few friends on the BOTE bus. if you live in the valley you should definitely check out this amazing service. $10 both ways. no need to worry about a designated driver or DUI. pretty genius.
so then two of my co-worker friends met up and we danced the night away. i got all sweaty. it was amazing.
after a night of crazy fun we took the BOTE bus back to courtney's house and before i knew it the sun was coming out. again. this seems to happen a lot. i had to be in venice at 9:30 on sunday to see my new house (which i am very excited about). so i decided that if i went to sleep i would feel worse than if i just powered through. i ended up going to santa monica at about 6:30 with abby and bumming around on the beach for a while. we took a power nap in the sand then we cruised around the new hood meeting all the dogs.
sunday the collective CA did an invasion at the everyday party on the rooftop of the standard hotel downtown. i survived the whole thing despite the lack of sleep and too much whiskey drinking. it was a fun party overall. we met some amazing new people and even got a couple shows out of the deal.
in the end i slept for 9 hours which is 3 hours more than the average amount of sleeping i do.
i feel alive!!!
be well, stay alive, let go of your ego and always smile. it helps
6/15/10
last night i saw some amazing music happen at spaceland. it was free. i don't know how anyone could have not gone…
well if you didn't here's what happened.
the fling opened up the night with some amazing melodic and soulful rock and roll driven by three part harmonies and lots of tremelo. i highly recommend checking into these guys and giving them a listen. they were even nice humans. kinda rare.
next was the union line. the whole reason i went to the show. for real…
i discovered the union line a couple summers ago at club moscow of all places. they were playing with a band that an old friend of mine recommended called get back loretta. i thought the union line WAS get back loretta, but they weren't.
so i befriended the guys and continued going to see them any time they played in los angeles. i soon discovered another amazing band through these guys, the one and only local natives. yes. thank the stars for the union line and local natives. i truly believe these two bands changed my life. and they have been huge influences on pan america and many collectivians. (that's what i call the people of the collective)
their drummer started a music blog called strange fruit. not to be confused with strange meat!!! check it out.
he brings bands into his basement to record a song or two then posts music and videos for free download. pretty genius. and very much along the lines of what we at the collective CA are doing. gotta love it.
i can't wait to get some collective bands in there!!!
so… on with the show.
playing third was we barbarians. this three piece band had me bobbing and tapping and stomping through the whole set. well except for the part where i walked outside for a minute so my brain didn't explode.
i would recommend this band to anyone with confidence that they would find something to love in them.
their residency is going on every monday in june at spaceland.
and last but not least was sucker for pumps. i met these guys one night at henri's through tricky. good dudes! and their music was actually really really moving. kind of dancy and melodic. i'm looking forward to doing some shows with these brilliant guys in the near future.
so needless to say, the show was a smash hit. the whole line up was impressive and the crowd stayed for the whole show. music is back!!!!
LOVE
6/10/10
"when we lose focus just a little bit, it can cause ripples all around us"
oh hi,
sometimes i disappear…
it happens. even when you see me. i'm not there.
lately we at the pan america camp have been filling our plates with everything from washing dogs to making demos to playing with other bands and even hanging out with our girlfriends… well not me. i'm retarded when it comes to girls…
the mowgli's have been keeping me busy with shows galore!! i don't mind it. i love playing with these people, every one of them.
pan america has our next confirmed show!!!
july 14th at club moscow with our friends the diamond light and aerial stereo.
my roommate chad just noticed he has the same sunglasses as Jay-Z. he's stoked.
4/29/10
"If we always pass on living our lives will pass us by"
We have been up to some living ourselves…
Tonight Michael and I are playing with David Block from The Human Experience at the dark carnival downtown. I don't even know what we're getting ourselves into. It sounds like a scary funhouse or haunted trail where people go missing.
We'll have some pictures to share.
I've been up to more and more demo making. It's been a couple months since i've written a full song. I'm always coming up with little parts and melodies, but lately I've been really trying to focus on recording the long list of songs I've written since the summer. It's a long process when everyone involved is so busy living.
This is the way it should be though.
In the meantime Sean and Tricky have been rocking with Toy Robot. They're great people and they make great pop tunes!!! I've been trying to get Rediscover back on the map with Wes. We're doing a show with Millionaires on June 7th at Chain Reaction in Anaheim. Check out Allages.com for ticket info.
Last but not least….
The Manifestival is near.
This Saturday. All day. Check the flyer on the main page.
Peace to all
LOVE to all
-pan america
4/6/10
I've been reading Bob Dylan Chronicles, written by the one and only Bob Dylan himself. It's a great read. He tells stories of being in New York's Greenwich Village in the sixties and the music scene there. Mostly the folk music scene. That's where his head was in that time.
My car broke down so my roommate and I decided we would be men and fix this shit ourselves…
one week later we have a half taken apart car blocking the whole driveway. I actually don't mind not having a car. I've been taking the Los Angeles Metro system. Trains and busses. Sure it takes twice the time to get to work now, but I don't have to look for a parking spot when I get there. Also I get to relax and READ. This is a big deal. I can't begin to express the importance of taking some time to breathe and calm yourself. Maybe I need this more than some people, but to all people it is important. When I lived in Koreatown I took the train a lot and in turn I read a lot. I'm currently in the middle of three books and I have about five new ones that I'm ready to insert into my brain. This Metro situation will clear this up in no time. Pretty soon I'll be complaining about not having enough books to read… In the end the decision is to continue fixing the car (at tortoise speed) and then when it's fixed only drive when it's completely necessary.
On to some real news…
We have a show coming up at the end of April. The 22nd to be exact.
It's a Thursday night and some people may have to work the next morning but that's no excuse when it comes to LIVING. More details and an ultimately sweet flyer will be here shortly.
For now, LOVE one another
3/28/10
"…so if we fall… we'll just be down there."
This weekend was a smashing success in terms of adventures. It was filled with amazing quotes to say the least. Michael and I went to Ojai for a hippie camping party. We played a set with The Human Experience. It was an amazing experience and the start of a new collaboration. We ate fresh oranges, had a cuddle on a trampoline and went on a journey in a tree surrounded by moving lights and meditation. It was life changing. We were surrounded by amazing friends and made some new ones.
We woke up saturday morning and played our guitars on a carpet in the grass. We played some pan america songs and some Mowgli's songs as well. Everyone started coming out of their tents one by one and joining us in the circle. The people seemed to like what we were doing. It was an amazing way to start the day.
Always supporting The Collective
When we left Ojai on saturday morning we went strait to Courtney's for a Collective gathering where Areal Stereo, Lost Squad and The Mowgli's played along with many jam sessions throughout the evening. It was one of the better gatherings that I've ever attended. Filled with music and LOVE.
3/25/10
The last few days have just all melted together for me…
St. Patty's Day was a huge success for us and The Mowgli's. My dad was in town that week and I got to hang with him for a few days. Took him to cranes for dollar beer night and needless to say we got a little drunk. Then he came out to Moscow and he stayed all night!! I had a blast just hanging and chatting. We don't get to do that very often because we live 1300 miles away from each other.
The Collective II was an amazing evening. We opened the night up with an intimate acoustic set on the floor with all our people surrounding us. It was truly a euphoric moment. At the end of the set, the end of 'will we ever learn?', we had a full sing along with everyone. People were smiling singing laughing drinking and loving every bit of it.
We will have more live videos from the St. Patty's day show @ Club Moscow. Until then, be well and be conscious of who you're being.
PEACE and LOVE
3/14/10
I'm about to watch The Pacific…
I'll let you know how it goes.
3/11/10
Last night we moved The Mowgli's studio to our downtown rehearsal space. We nearly filled the freight elevator with crap! It was pretty intense. Then we got it all in the room and somehow it didn't seem like that much gear after all..
Now the mission is to set it all up (which Michael most likely did overnight) and start recaaaardin music!!!
This is already a home away from home for some of us but now it will be like some sort of crazy college dorm room with people coming in and out at all hours of the night. I can't wait to get in there and get started.
Pan America is playing next weds (ST. PATTY'S DAY!!!) with The Mowgli's at Club Moscow @ Boardners 1652 N. Cherokee Ave. Hollywood CA, 90027
Street parking in Hollywood on a weds is pretty good. All the meter spots are free after 8pm.
Also the show is FREE!!! You just have to email PANAM81@GMAIL.COM *or* hit us up on our facebook with your name and anyone else you would like us to put on the list.
3/9/10
Myspace is back!!!
Today was a very good day for me…
I was off work so the one thing I could do, other than sit at home watching fox news, was to go into the studio and make some musical magic. Yesterday I finished all the lyrics and melodies for three songs, so today I went to the studio and sang my heart out. Finished two songs. The next step will be putting it all together with the band and then taking over the universe.
I did a photo shoot with some friends las weekend. My dog Abby was in some of the shots. She was the positive light that helped me turn my perspective around. The photo shoot was originally planned for Pan America but it's hard to get 5 crazy dudes in the same place sometimes. So I did the shoot with my dog…
We also did a few videos of me playing 'will we ever learn?' and three NEW songs!!! As soon as I get the videos I'll post a couple. Should be fun.
I'm off to adventure land. You can follow my adventures @joshrediscover
Be well and remember the golden rule.
3/8/10
As many of you know I have gone through some of the biggest changes of my life in the last year. I've always been a big fan of change. I feel like it keeps me level and it keeps things interesting. From the start I had a positive view of the new phase in my life. I went through a period of self realization and became a much better me. Also I've found this creative being inside of me that has been hiding for so long now I forgot all about it. I've been writing… excuse me, vomiting songs into my little notebook and now it's time for us to start recording these songs. I do realize how pathetic I am and that some of these new songs are extreme, but I also know that this will pass and I'll start making 100% positive music instead of the maybe 40% that you're about to have thrown at you.
Either way it's real.
…In other news.
We're playing at moscow next week with The Mowgli's.
It's St. Patty's Day so it will be a great night filled with green beer and green everything.
I'll keep you posted the new songs and any other breaking news.
peace
-joshua
3/4/10
St. Patty's Day celebration with pan america and The Mowgli's –
Club Moscow at Boardners in Hollywood, CA. It always turns into a dance party and you get in free so how could you not want to come? 10pm 18+

3/2/10
Check out a live video from the first event hosted by The Collective @ The Dragonfly in Hollywood, CA.
3/1/10
even when the crows walk around… we know a change is a comin' down
3/1/10
hello there beautifuls,
This is an old video I found of Jim and myself discussing our drummer auditions that we held last summer. funny stuff. good times. check it
then here's the one after we found anthony. jim explains how they met.
jim wakefield everyone…
2/28/10
Sleep more than I did this weekend